TestTree: 2016 EUROPEAN READERS' CHOICE AWARDS FINALIST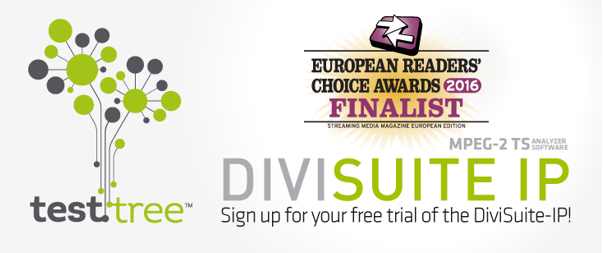 TestTree is a finalist of the Streaming Media European Readers' Choice Awards
The Streaming Media Readers' Choice Awards represents the only awards program in the industry where end users vote on the products and services they rely on to do their jobs. The European reader choice award is the ninth annual installment of the only awards program in the online video industry. Streaming Media Europe selected the 375 best streaming media products and services in 18 different categories.
TestTree is proud to announce that the DiviSuite IP has been classified among the Top 3 Services in Europe 2016.
More on the Streaming Media Europe website
DiviSuite IP is a MS Windows OS application providing complete TS/T2-MI analysis of baseband streams (IP, File based), with TS recording and playback capabilities.