TestTree at InterBEE 2017 Booth #3204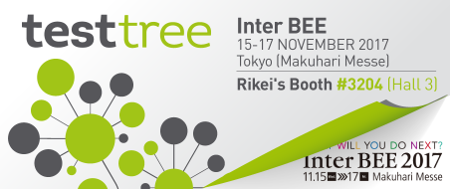 TestTree culture is based on innovation
TestTree is working since 2004 on novelty products and solutions based on latest technologies and standards. TestTree team is composed of highly experienced engineers, participating to the major standardization working groups.
Our partner in Japan Rikei invited us to show and demonstrate our latest products.
Come and see our latest cost-effective and innovative products!
DVB-S/S2/S2X Monitoring Probe
With more than 4200 monitoring probes widely deployed, TestTree is completing its 24/7 Monitoring product line with DVB-S/S2/S2X support
High Density Chassis
Up to 6 parallel 24/7 monitoring probe modules in 1RU
ISDB-T/Tb Compact Monitoring Probe
Small, compact and easy to handle, EdgeProbe Nano ISDB-T/Tb is the ideal tool for field technicians to validate and monitor 24/7 all points of a DTV network.
USB compact Spectrum Analyzer, Recorder & Player
RF-Catcher spectrum analyzer/recorder/player with complete Application Suite. Bundled with EdgeProbe, it triggers RF recordings on reception and stream errors!
All-in-one pocket-sized Analyzers, Recorders and Players
Cost-effective must have Lab Tools for RF + Baseband (ASI, IP, File) streams
Arrange your appointment!
Our APAC Sales Manager Simon will welcome you on the stand.
Follow TestTree on Twitter!