TestTree at ANGACOM 2017 Booth #7-C21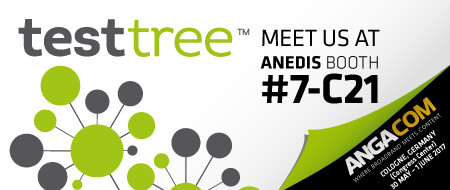 TestTree culture is based on innovation
TestTree is working since 2004 on novelty products and solutions based on latest technologies and standards. TestTree team is composed of highly experienced engineers, participating to the major standardization working groups.
Come and see our latest cost-effective and innovative products!
Our German partner ANEDIS invited us on their booth to demonstrate our products.
Portable RF Capture & Playback Device
The most compact RF Capture & Playback device and spectrum analyzer. Covering a frequency range from 70 MHz up to 6 GHz, RF-Catcher can Record & Play real-time RF bandwidth of up to 55 MHz.
DVB-C/C2 Compact Monitoring Probe
EdgeProbe Nano is the most tiny and compact digital cable standalone analyzer, with no compromise on Quality, used for continuous monitoring of critical RF, MPEG-2 TS or C2 frame parameters and health diagnosis of cable networks.
DVB-C QAM Professional RF Receiver
The most complete (RF down to the Video) & compact (160g) analyzer for DVB-C* QAM
*ITU-J83 Annexes A, B, C supported
Arrange your appointment!