TEST-TREE at SET EXPO 2017 Booth #74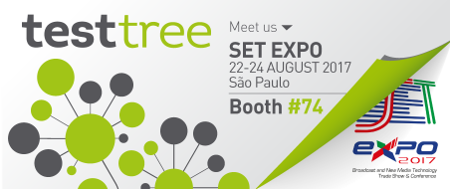 TEST-TREE culture is based on innovation
TEST-TREE is working since 2004 on novelty products and solutions based on latest technologies and standards. TEST-TREE team is composed of highly experienced engineers, participating to the major standardization working groups.
Come and see our latest cost-effective and innovative products!
DVB-S/S2/S2X Monitoring Probe
With more than 4200 monitoring probes widely deployed, TEST-TREE is completing its 24/7 Monitoring product line with DVB-S/S2/S2X support
EdgeProbe GlobalViewer
Centralize your network quality view: 24/7 monitoring probes status!
High Density Chassis
Up to 6 parallel 24/7 monitoring probe modules in 1RU
All-in-one pocket-sized Analyzers, Recorders and Players
Cost-effective must have Lab Tools for RF + Baseband (ASI, IP, File) streams
Arrange your appointment!