TestTree at NAB 2017 Booths #SU7813 #N328FP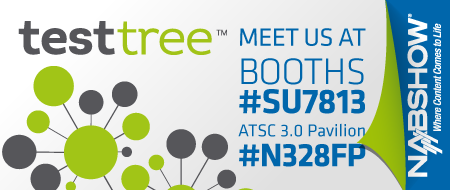 TestTree culture is based on innovation
TestTree is working since its creation on novelty products and solutions based on latest technologies and standards. TestTree team is composed of highly experienced engineers, participating to the major standardization working groups.
COME AND MEET US IN VEGAS!
TestTree new products demonstration
TestTree is proud to announce its presence on two different stands:
SOUTH HALL Booth #SU7813
ATSC 3.0 PAVILION Booth #N328FP
Come and see our latest cost-effective and innovative products!
ATSC 3.0 Modulator for Lab
ATSC 3.0 LabMod is the perfect modulator for discovering ATSC 3.0 standard!
ATSC 3.0 LabMod is already on sale! Click here for more details.
DVB-S/S2/S2X Monitoring Probe
With more than 4200 monitoring probes widely deployed, TestTree is completing its 24/7 Monitoring product line with DVB-S/S2/S2X support.
Arrange your appointment!
Fill in the following form to request your appointment with one of our experts.