TestTree at BCA 2017 Booth #4F2-06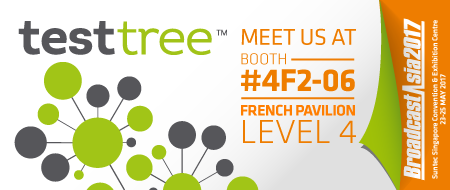 TestTree culture is based on innovation
TestTree is working since 2004 on novelty products and solutions based on latest technologies and standards. TestTree team is composed of highly experienced engineers, participating to the major standardization working groups.
Come and see our latest cost-effective and innovative products!
DVB-S/S2/S2X Monitoring Probe
With more than 4200 monitoring probes widely deployed, TestTree is completing its 24/7 Monitoring product line with DVB-S/S2/S2X support
EdgeProbe GlobalViewer
Centralize your network quality view: 24/7 monitoring probes status!
High Density Chassis
Up to 6 parallel 24/7 monitoring probe modules in 1RU
ATSC 3.0 Modulator for Lab
The perfect modulator for discovering ATSC 3.0 standard!
Arrange your appointment!